$20 bill gets a facelift
http://money.cnn.com/2003/05/13/news/economy/twenty/index.htm

The new note features subtle shades of peach and blue and a new background.
May 13, 2003: 2:00 PM EDT
By Mark Gongloff, CNN/Money Staff Writer

WASHINGTON (CNN/Money) - The $20 bill got a facelift Tuesday, complete with new colors, a new number arrangement and a new background, in the government's latest effort to thwart counterfeiters.

The Treasury Department's Bureau of Engraving and Printing introduced the new design, still featuring Andrew Jackson on the front but without the old circle, and a background with subtle green, "peach" and light blue hues.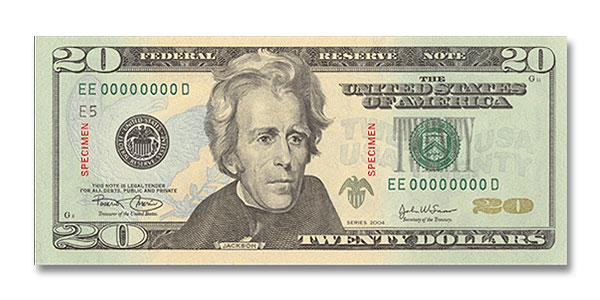 Other new features include small 20s in faded yellow in the background of the back of the bill. In the background of the front of the bill is a faded bald eagle and the words "Twenty USA/USA Twenty."

The Treasury plans to redesign bills every seven to 10 years to keep up with technological advances in counterfeiting.

"The soundness of a nation's currency is essential to the soundness of its economy. And to uphold our currency's soundness, it must be recognized and honored as legal tender and counterfeiting must be effectively thwarted,'' Federal Reserve Chairman Alan Greenspan said in a ceremony at the bureau.

The last redesign of American currency was in 1996, when a new $100 bill was introduced with anti-counterfeiting features such as ink that appeared black from one angle and green from another; a watermark visible only when holding the bill up to the light; and a security strip running vertically through the bill -- features that will remain in the newest currency.

Other currencies with similar features followed -- a new $50 bill in 1997, a new $20 bill in 1998, and new $5 and $10 notes in 2000.

The new $20 bill will go into circulation in the fall -- most likely in October, according to Thomas Ferguson, director of the Bureau of Engraving and Printing.

New $50 and $100 notes will be introduced in 2004 and 2005, each with different color schemes. New $5 and $10 notes might also be introduced. The $1 and $2 notes will not change.

In the meantime, the Treasury Department is working with companies in the vending, gaming and public transportation industries to help them adjust their currency-reading devices to accept the new bills.

Treasury has given these companies material they can use to update bill-acceptance devices, but nothing they can spend or use to make counterfeit bills.

But some currency experts warned that the new features likely will do little to discourage counterfeiters.

"Everything they've done before has been superseded by better counterfeiters," said Dennis Forgue, an anti-counterfeiting expert at Harlan J. Berk Ltd., a numismatic firm in Chicago. "With the effectiveness of computer-generated images these days, they can make some pretty nice counterfeits pretty quickly."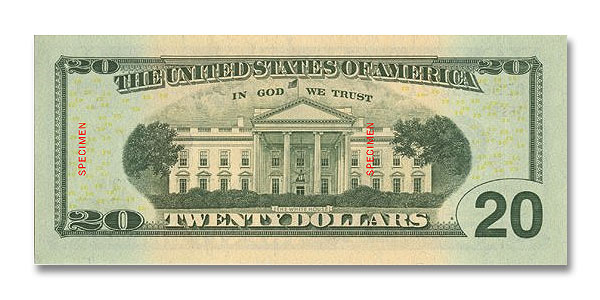 Of all the counterfeit bills in circulation, about 40 percent are produced digitally, according to the Secret Service, which was established in 1865 to fight counterfeiting.

Forgue said some counterfeiters are able to bleach the ink out of newer bills of smaller denominations, leaving just the unique currency paper and the watermark, and then print the features of a higher-denominated bill on the blank paper.

"The ones I've seen have been not that great in quality, but can pass in a lot of places," said Forgue, who doubted the features of the new bill would do anything to discourage people from this process, called "leaching."

The Bureau of Engraving's Ferguson acknowledged the new bill would not discourage counterfeiters from this process, but he said there would still be features that, with a quick look, could distinguish a "leached" note as counterfeit.

"It will still have a different watermark and security strip. You could tell the difference in about 15 seconds," Ferguson said.